Like many, I've been finding ways to adventure in my own neighborhood.
I take several walks to the park, run up and down the hill with my husband and our 3 year old son, 10 year old daughter, and 6 year old husky. I'm thrilled to see the joy of my 3 year old climb trees, something I SO loved as a child! We're exploring the town, tracking down rivers, trains, butterfly eggs or larva and soaking up as much nature as possible. When I reflect on adventures we have together I'm thankful.
I'm feeling the nudge to climb higher, explore more, and set my own goals. The pace I've been living is beautiful, yet slow. I need something fresh, exciting, and  challenging that keeps me craving for more! I don't sit still for long. The payoff for any goal needs to be well worth it or I will fail. I've had many ideas that just didn't pan out. Things I've dreamt of doing and worked hard for and I had the heavy realization that those things just weren't for me. This was actually a huge bummer and something I can get more into another day but basically not all career goals or things I thought I'd be IN love with were ME and so I moved on. I learned how to tell when it was time to move on, something that was hard and lengthy but has helped me grow in so many ways. Now, enough of all that. Let's move onto when I felt motivated and determined to be and do more for me.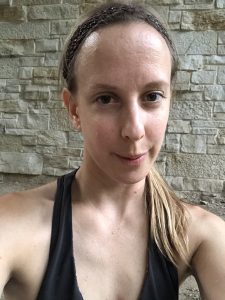 First, I replaced my Facebook phone app(deleted it) with a fitness app. Yay! On average, I was spending 4 hours a day on Facebook! What a waste. I thought, what else can I do with this beautiful gift of time. I've always been the type of person who wished there were more hours in the day and now, I could make that happen?! Check! I started to dream about what I could do in 4 more hours, now that wasn't all during the day in one block of time, it's all the countless pickups and brief minutes of scrolling FB. It really adds up! I was a huge scroller at night or in the early morning. It kept my mind going and going a little too fast, anxious fast.
Now….after a few weeks I'm averaging at only 15 minutes a day! Whew!  It's opened me up to try new things. I went from feeling anxious with a racing mind to feeling motivated, excited and ready to DO the things I love. Don't get me wrong I still did things I loved before but there was always this excuse or that excuse. Maybe Moms or Dads, or anyone reading this that has ever pushed their life to the side(maybe you tucked yourself next to a pretty growing flower and you're the little seedling in the shade) understands this. I don't need to always get X, Y, and Z done anymore. It's okay if I want to go running and my children don't want to, it's okay if I want to go bouldering and not everyone in my house wants to, it's okay to do things that are my "own" things that make me feel free. I also don't need to get sucked into things that just aren't for me. I feel like I'm discovering myself. I don't intend to make this all about me in this post. I've had a lot of support from my husband, homeopath(who is an adventurer too), and my counselor so I definitely didn't get here easily or quickly.  When I daydream and think of all the things I hope to do I always circle to writing stories on Nature Reel. It's been a passion of mine and a happy release. I think of some of my environmental "hero"  writers like Thoreau, Whitman, Berry, and Carson. For years I've been day dreaming up stories I would write on Nature Reel, some of them I'd like to co-write with my husband. There are wild trips I'd like to share with you. Many. I hope you stay tuned!